Dear Kate,
This letter is about starting a new chapter. I'm excited. It's written to you from a sunshiny spot in Austin's Zilker Park.
XO,
Ali
---
Earlier this summer, one of my bosses asked me a simple question: "What do you want to do?" 
He was asking about the skills I'd like to develop. The projects I'd like to work on. This is a very kind thing for a boss to ask. It is a privilege to be asked this question.

But boy, is it hard to answer.

The things I once wanted to do in my professional life—build a career, invest for retirement, "climb the ladder"—now feel irrelevant. And maybe a bit selfish. As I've sat in empty rooms for the past sixteen weeks, first in New York and later in Texas, it's become clear: we're never going back to normal.
Life is going to get more raw. Recently, on my way to pick up a coffee and a bagel, I drove past a line that curved around three city blocks. It was for Austin's food pantry.
It feels important to understand the severity of the situation right now. It feels important to take a risk. Those who are able should take on risk for those who are not.
I want to focus on witnessing this moment. I want to capture it. I want to write essays. I want to tell stories before they're forgotten. I want to write it all down.
People in tech love to repeat Reid Hoffman's line: "If you're not embarrassed by your product you've launched too late." They love side hustles and Twitter followers. Quick wins.
But what about real risk? What about real effort? What about really putting skin in the game, not just stacking Nassim Taleb books on a shelf?

This quote from the writer George Saunders knocked my socks off. He spent twelve years on just one short story. When an interviewer asked why he took so long, he answered:
To write a decent story is such a huge and unlikely accomplishment that we shouldn't care how long it takes. How much time would you be willing to spend to create something that lasts forever?
How much time would you be willing to spend to create something that lasts forever?

To me, risk goes hand-in-hand with commitment. Risk is not deciding to buy a Peloton after weeks of handwringing. Risk is not "finding yourself" at Burning Man.

Risk is committing to a lifelong marriage. Risk is putting down roots in a community. Risk is investing and participating in that community. Risk is getting to know strangers. Risk is giving your money away without expectation. Risk is deciding that something is important and following through.

I think writing stories is important. Here's my plan to follow through:
I turn 25 in two weeks. After that, I have 365 days left of free health insurance. (Thanks, Dad.) So I have one year. One year for skin in the game.

Impending recession may also make this the best time to sit quietly with a pen, paper, and a can of beans. "If nuclear winter really is here, it may be safer to be a cockroach even than to keep your job," Paul Graham wrote to aspiring founders in 2008. "As a founder, you're buying stock with work...and like any investor you should buy when times are bad."
And so, this is my last day working at an incredible company, with incredible colleagues. I'm so lucky to have learned from them.

It's time to take a real risk. (And I mean a real risk, like as in, I have no income anymore, and I may show up to sleep on your couch at some point.)

My plan is to wander the Texas desert. I'm all set for an extended road trip into the small towns of West Texas (before eventually returning to Austin to write full time). Look forward to essays about the joys of camping and the sting of mosquito bites.
I'll be asking questions, looking for stories, and hoping my newly purchased but very-much-pre-owned Ford (2007 was a good year, right?) doesn't catch on fire.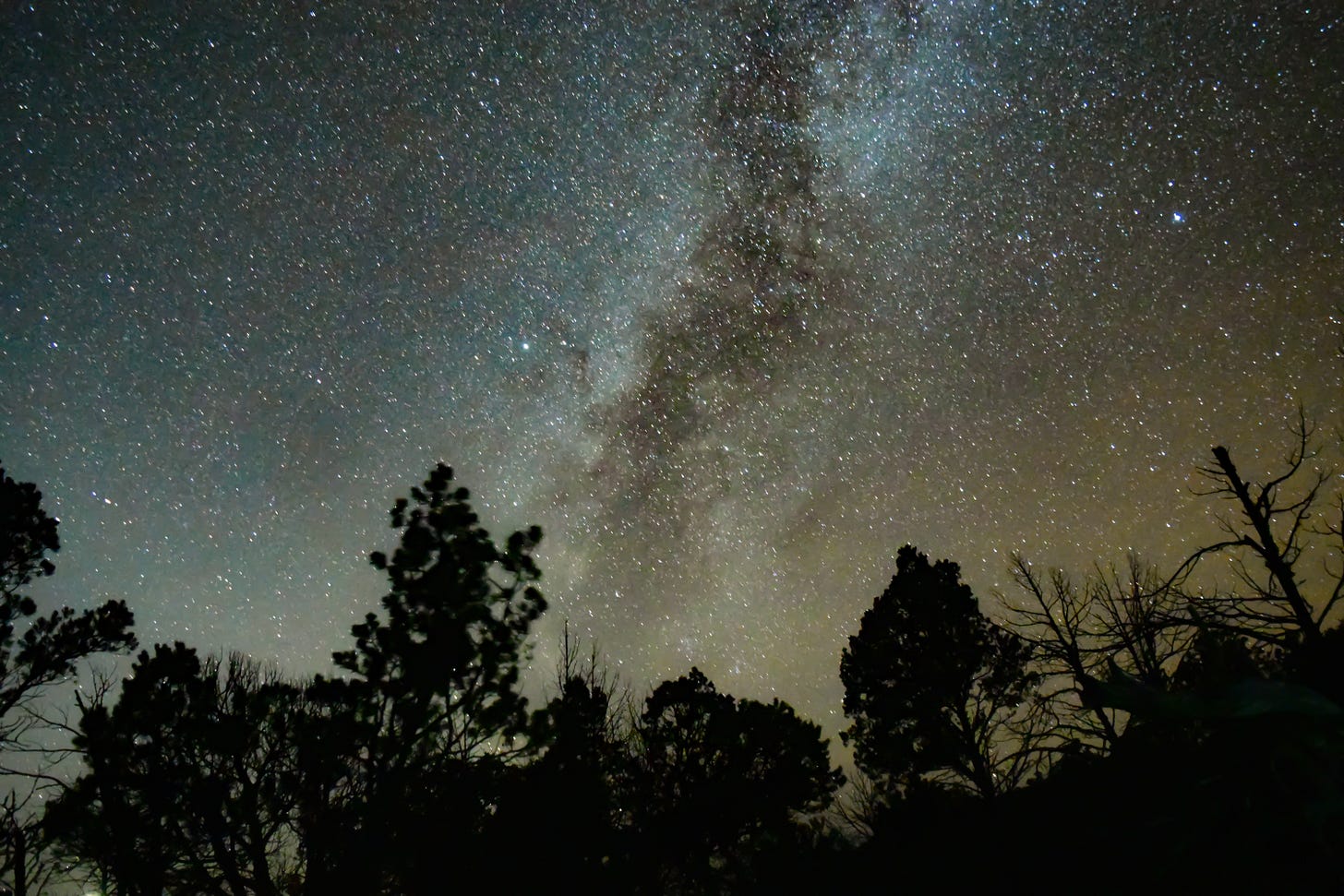 P.S. Kate, the poem you shared from Joyce Carol Oates is PERFECT. I love Joyce so dearly.